From each city or town we select the best poem for a free ride on the Poetry Cab and a publication in our Poetry Cab Anthology (see below the cover).
Poetry Cab Anthology
This year we will print a landscape coffeetable book with people, poetry, photos AND 90 minutes great readings and crazy video's.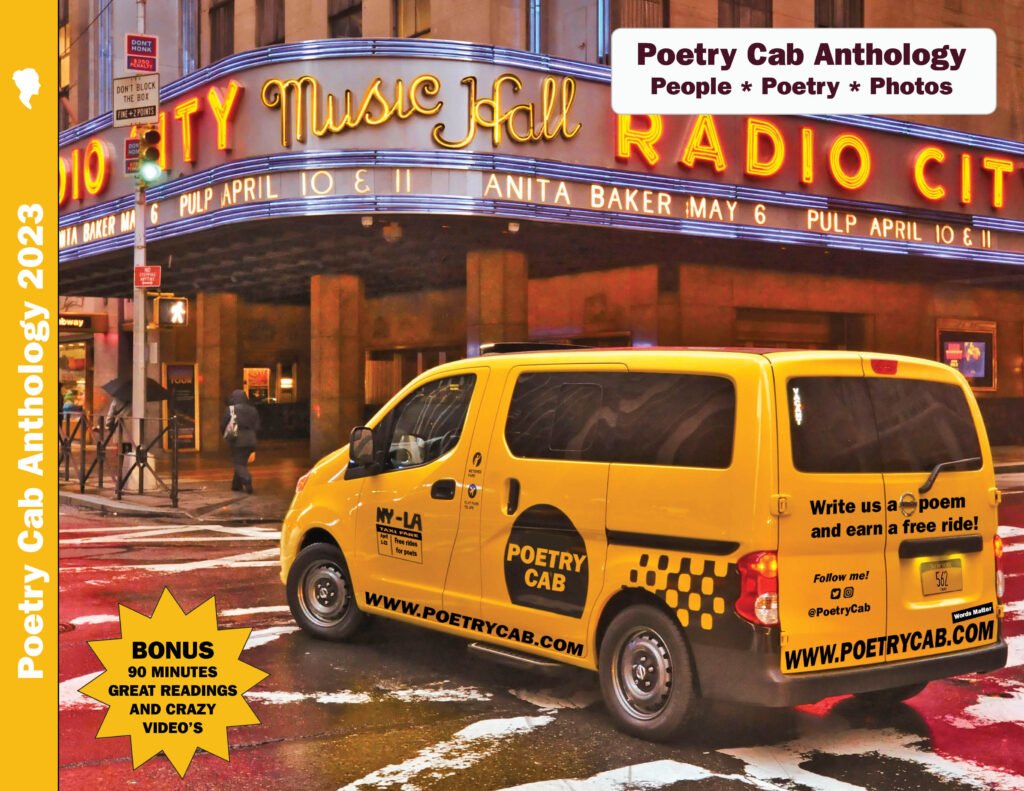 City or country life
We select only poems about life in one of the 64 big cities or small towns between NY and LA. You can find the 64 cities and towns at www.poetrycab.com/64-cities. It's exactly the same route as the annual Poetry Train.
What's in it for you
Each selected poet will get a free ride on the Poetry Cab, his or her selected poem will be printed in our anthology and from each poet reading we will make a video in our backseat filmstudio. All poets who got selected for a #freeride will also get an invitation for the 3rd LA Poetry Beach Festival.
Deadline
Submit your winning poem 24 hours before I arrive in your city to get selected for the Poetry Cab 2023!
New York (day 1 and 2)
March 30 – 11:59 pm
West Virginia
April 6 – 11.59 pm
Kansas (day 2)
April 13 – 11.59 pm
New Jersey
April 1 – 11:59 pm
Kentucky and Ohio
April 7 – 11.59 pm
Colorado
April 14 – 11.59 pm
Pennsylvania
April 2 – 11:59 pm
Indiana
April 8 – 11.59 pm
New Mexico
April 15 – 11.59 pm
Delaware and Maryland
April 3 – 11.59 pm
Illinois (day 1 and 2)
April 9 – 11.59 pm
Arizona
April 16 – 11.59 pm
District of Columbia
April 4 – 11.59 pm
Illinois (day 3)
April 11 – 11.59 pm
California (day 1)
April 17 – 11.59 pm
Virginia
April 5 – 11.59 pm
Iowa, Missouri, Kansas
April 12 – 11.59 pm
California (day 2 and 3)
April 18 – 11.59 pm
Deadlines